Lyceum
The AAP Local Leadership Lyceum program is intended to help develop leaders within our association and our industry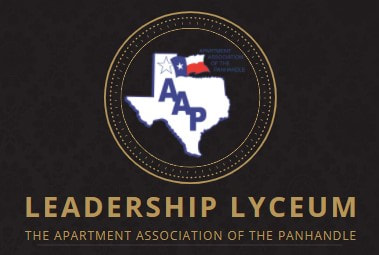 ​The ideal candidate is someone who is already active in the local association and wishes to develop their leadership skills and further their Apartment Association involvement.
Individuals may nominate themselves or be nominated by other association members. Nominations are open to owners, managers, maintenance, and PSC employees.
QUALIFICATIONS
Lyceum applicants must be members in good standing with the AAP.
Applicants must currently be serving on at least one AAP committee.
Class sizes will be limited. Class #1 will be held as an evening reception. Classes #2 through #5 will be held at the Amarillo Association of REALTORS®, 5601 Enterprise Circle, Amarillo, TX, during business hours. Graduation and presentation of Certificate of Completion will be conducted during the Annual Awards and Installation Banquet.
In order to graduate, you must attend all 5 sessions plus graduation. No Makeup sessions will be offered.
PROGRAM CURRICULUM
Class 1 - "Getting to Know You": an overview of the program
Class 2 - AAP Mission & Strategic Goals, Member/Board of Directors participation. Sources of Revenue. Fiduciary/Legal responsibilities for Board of Directors, budgeting process and Parliamentary Procedures
Class 3 - Committees & Their Strategic Goals/Plans of Work/Involvement
Class 4 - Education Programs, Online courses, TAA/NAA/AAP Education GoalsClass 5 - Legislative
Advocacy and the Governmental Process + "Lunch with Legislators & Lobbyists"
At Annual Awards & Installation Banquet - Presentation of Certificates of Completion
---