Back to Events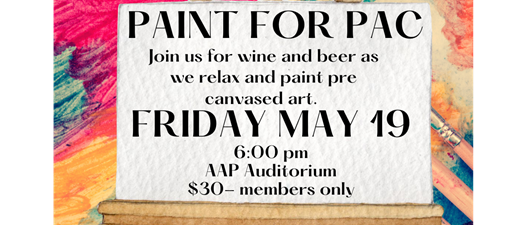 Paint for PAC
Friday, May 19, 2023
Event Details
Join us for beer and wine as we raise money for PAC.
Pre-canvased art and drinks will be provided. Price is $30, and this event is for members only.
Location: 5601 Enterprise Circle, Amarillo, TX 79106 in the auditorium.
Non-incorporated businesses or individuals only.

Individuals or non-incorporated companies cannot pay more than $100 in cash every two years.

Members may

not

pay us directly, however

you may register through this link. Please remember that you will be required to fill out a TAA PAC donation form at the event.
Contributions to TAAPAC OR NAAPAC are not deductible for Federal Income Tax Purposes. Contributions are voluntary and are used for political purposes. You may refuse to contribute without affecting your membership rights.